Interested in working with a vibrant rural community on a beautiful Gulf Island located on the West Coast of British Columbia?
Gabriola Island is located in the Strait of Georgia and is accessible by a twenty minute ferry crossing from Nanaimo on Vancouver Island. There is also a sea plane terminal on the Island for those that require even quicker transport plans.
Known as "The Isle of the Arts" Gabriola is blessed with a temperate climate, numerous quiet beaches, forested parks, and an abundance of wildlife. Gabriola is one of the most populous of the Gulf Islands at approximately 4,200 residents whom in general enjoy a relaxed lifestyle and a strong sense of community.
The Gabriola Medical Clinic hosts a collaborative team including two family physicians, Nurse Practitioner, Home and Community care nursing, Mental Health and Substance Use RN, Social Worker and the best admin support you'll ever find!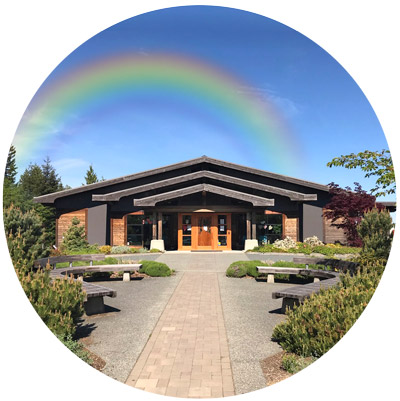 Clinic Achievements
See how the clinic has been featured in various media.
READ MORE

Gabriola Tourism
All the best tourism info located at one site.
VISIT SITE

Health Match BC
Official BC job postings page for Gabriola Island.
VISIT SITE

Gabriola Health Care Foundation
Improving health care for Gabriola residents.
VISIT SITE

Current Locum Postings
Visit the external "Locums for Rural BC" website to see the current locum postings — locumsruralbc.ca
READ MORE
Watch below to find out more about integrated health care at the Gabriola Community Health Centre
Our community has so much to offer beyond the world-class boating, hospitality and tourism destinations Gabriola provides. Here are just a few ameninties that might peak your interest:
Grocery and Specialty Food Stores
Campgrounds and Provincial Parks
Skatepark and Tennis Courts
Banking and Insurance Services
BC Liquor and Beer & Wine Stores
Hardware and Building Stores
Golf Course with Clubhouse & Patio
Farmstands and Farmer's Markets
Art, Music & Theatre Festivals
Preschool, Daycare and After School Care
Contact us today to learn more about the opportunity to join an existing full-service family practice and primary care clinic with IHN (Integrated Health Network) services. The clinic is located in a new fully equipped, architecturally designed state of the art facility.
Please reach out to:
Dr. Tracey Thorne,
Gabriola Medical Clinic (250) 247-9922

For your convenience we're sharing here some Gabriola featured videos. We are not affiliated with any of these videos. Enjoy!